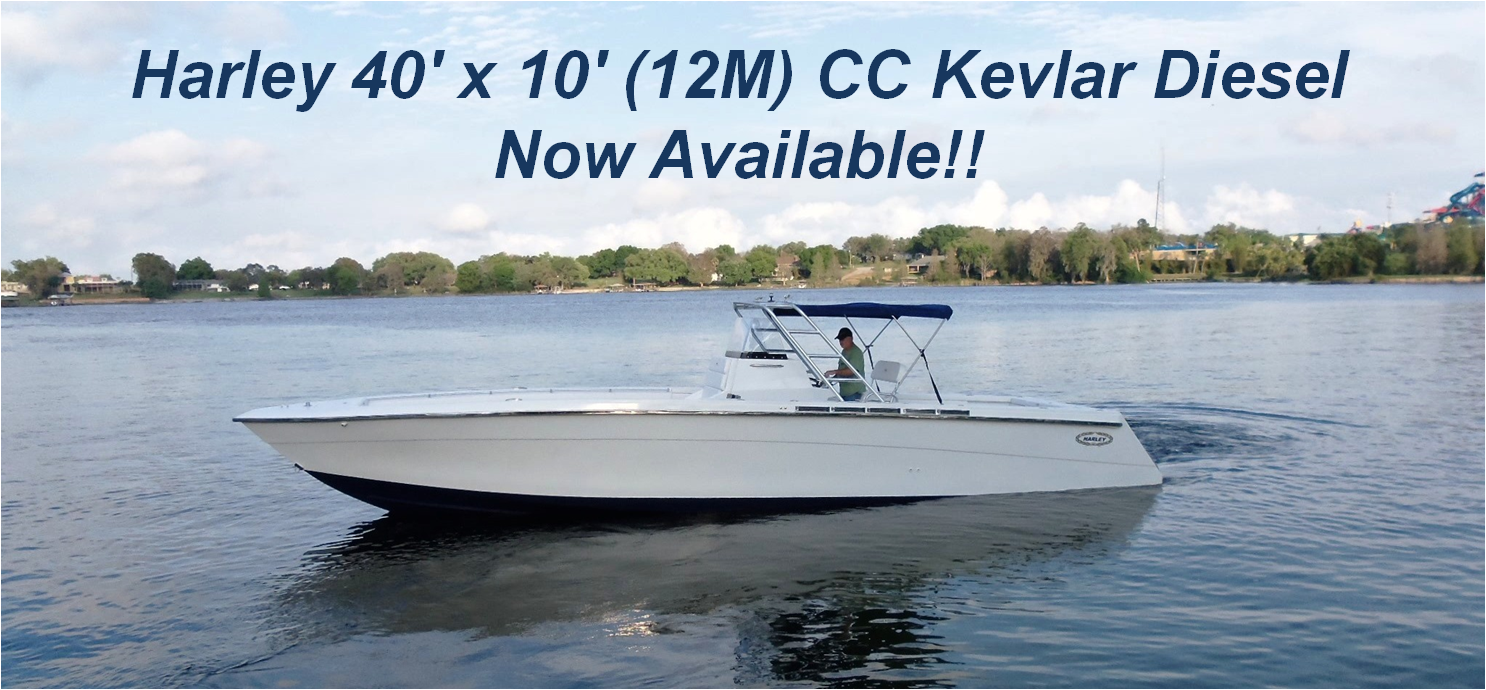 Our new Harley 40' x 10' (12 meter) Center Console Kevlar Diesel is now available. This exciting fast Center Console achieves remarkable efficiency and speeds due to several factors. At up to 2.5 to 3 miles per gallon at cruise speed, depending upon engine choice, we are typically 300% the efficiency of the outboard center consoles in this size range, and about 200% (or better) the efficiency of the similar diesel boats in this size range.




The vessel is much stronger and tougher than its fiberglass counterparts. In our website www.harleyboats.com you will see pictures and testimonies of a number of Harley Kevlar boats that were in high speed accidents, 45- 50 mph, some into immoveable objects at these speeds! No comparable fiberglass vessel could survive accidents like these even close to the way the Harley vessels did due to their great strength, design and the materials used in the Harley vessels. Here are some key features of this remarkable new 40 foot vessel.
9000 lbs. with diesels and surface drives! (no sterndrives)


Deep-V Hull for Soft and Dry Ride! Stepped Bottom)


Kevlar/Airex/Vinylestor Vacuum Infusion Molded)


Exceptional Fuel Efficiency at 35-40 MPH Cruise)


52 MPH with twin 315hp Diesels)


65 MPH with twin 450hp Diesels!)


73 MPH with twin 560hp Diesels!)


Far greater range, and ability to stay out several days!)


Extremely Shallow Draft! Small Wake! Enviro Friendly)


Engines completely flush under floor, no motorbox above floor!)


Softer & superior ride over outboards due to center of engine weight
5 feet forward of transom rather than behind transom!)


Easily Trailerable! Pull economically at highway speeds)


Largest Storage! Huge Fishboxes, & large baitwells)


Foam Floatation for unsinkable boat!)


Large Head and Shower in Console)


Competitively priced with similar outboard Center Consoles!)


Strongest and Lightest Construction!)


Even Faster Speeds with larger diesels!)


Several forward cabin options available)


A True Tournament Winner!)


A quantum leap in tournament fishing! And as a Dive Boat!)


The Harley 40'x10' CC derives its unmatched high fuel efficiency, plus its high top speed high cruise speeds, all simultaneously, from our unique combination of:
Lightweight of Kevlar/AirexFoam/Vinylestor Vacuum Infusion Construction)


Stepped Bottom, with tow test developed optimum step and hull for a boat of this design and in this speed range and weight.)


Lightweight, compact, low profile, fuel efficient diesels, the boat requires much smaller diesel power than other boats its size)


Surface drives, fully hidden by swim platform, and out of the way for fishing)


The above unique combination is a marriage made in heaven, combining for performance and efficiency far beyond previously possible in a 40'x10' Center Console.)

The engines are fully beneath the floor, just immediately aft of the leaning post. The center of gravity of the engines is about 5 feet forward of the transom. There is a very large hatch above the engines, giving more than generous access to any point on the engines. The engines being places well forward of the transom, rather than hanging off behind the transom adds greatly to ride quality. A softer ride than outboard boats. Having the outboards gone, makes a far easier boat to fish, a far more beautiful boat, cleaner lines, truly more functional, and a true increase in style and class.)

The lighter weight of the Harley 40x10 also gives the vessel a pronounced softer ride and a dryer ride than its heavier fiberglass counterparts. Once a boat passes 26' in boat length, lightweight helps a vessels ride, as it becomes long enough to catch several waves at one time, and bridge over them, rather than plow through them. And also if you are going more over the water rather than through then, you are naturally displacing less water hence making a dryer and softer ride. Also improved are beaching and trailoring, as well as shallow water operations, and improved safety.

Standard power is twin 300hp Volvo Diesels. Optional engines include Yanmars, Cummins and FTP Iveco, and the Volvo Diesels. The Volvo 300 Diesels will reach 50 mph top on the open Center Console, and cruise up to 45 mph. The FTP Iveco Diesel is available at 450HP each, adding considerably more speed, 65 MPH top, and cruise up to 60 mph! And this engine is available at 560HP also, top speed 73 MPH! The Cummins are available from 350HP to 480HP per engine. And soon to be available at 550HP. Talk about a tournament winner and fishing machine!

We have had a considerable number of customers inquire about a single engine version of the 40 CC. A single 560hp diesel will push her up to about 50 mph top, and cruise up to 40 mph very economically.

The 40 Center Console has four fishboxes forward, including a giant centerline underfloor fishboxes, and two side fishboxes and twin baitwells aft on the transom, with optional pressurization or refrigeration. Optional custom arrangements available.

The 40 Harley Center Console is easily trailerable for interstate towing at highway speeds with an F-250 as well as F-350 and similar sized SUVs. For local towing even an F-150 can pull the vessel locally.

The optional Center Console Cabin version has a very generous cabin. It has a large V-berth forward, the couch on the portside has a backrest which folds up to make 3rd and 4th beds as bunk beds, and the large galley has a microwave, refrigerator freezer, cook top, counter space, sink & water, and abundant storage space. Also there is an optional entertainment center, with flatscreen TV. Air-conditioning and separate diesel genset can also be done. Also we offer a 12 volt air-conditioning as well, not requiring a generator, and we even have an engine driven genset option for AC 110v air conditioning that runs with one of the diesel engines at idle. The cabin is luxuriously appointed. The head and shower are in the Center Console, just a step away from the cabin.

We invite you to call us, and also to visit our factory, and have the opportunity to see all the exciting things we are doing. We believe you will share our excitement for this revolutionary new, very fast, remarkably efficient, sleek, and easily trailerable 40'x10' vessel. This is the first vessel in its class to combine high speed with very high fuel efficiency and economy. All of this combined with a very soft and dry ride from the deep V hull, puts the Harley 40'x10' Center Console in a class all by itself. A serious, exciting, unique, superior fishing and dive vessel.